We can apply finishes to assembled doors before shipping, so they are ready to install immediately. Finishes can only be applied to smooth, sanded doors that are fully assembled (we cannot add finishes to DIY barn door kits). Read below to learn about the different types of finishes we offer.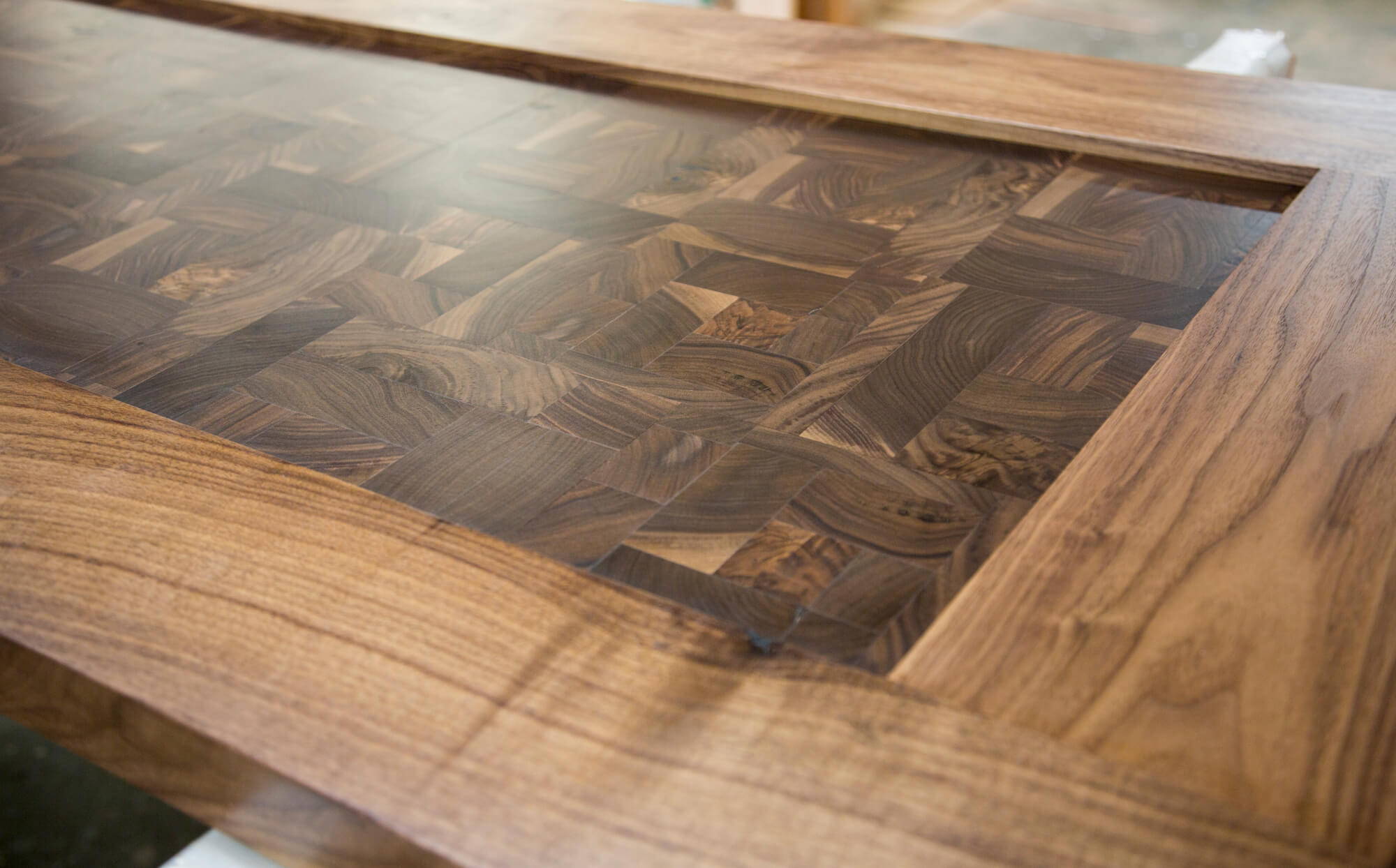 Pictured: Osmo clear hardwax oil in Soft Satin sheen.
Osmo Clear Hardwax Oil
This is our default & go-to clear finish for all our doors, interior or exterior… a truly hand-rubbed yet affordable finish. It is a superior finish, gives outstanding protection, can be spot repaired without lap marks and is a plant based, natural product… green, environmentally responsible & safe. A German engineered product, Osmo, has a rich sheen and its durability is unquestionable. Being as Osmo is used worldwide for wood floors, including airports, we find it a perfect for doors.
The Hardwax-Oil based finishing system has the clear advantage over any other product system that we know of.
Combining ALL the advantages of both penetrating and surface protection in bringing together the benefits of penetrating conditioning oils with the protection of a durable hardwax surface, it provides a breathable smooth surface. The Osmo finish is all natural, based on plant oils and waxes and green, non-toxic product; tested and approved in Europe for even children's toys. One of the greatest advantages of an Osmo Finish is that it is easily maintained and is even spot repairable. Your door arrives ready to install.
Osmo Hardwax Oil Finish ADVANTAGES:

The finish penetrates deeply into the wood & protects the surface
Protects the wood from the inside >Enhances the natural wood color
Produces a repairable & recoatable surface
Spot-repairable & recoatable surface
Forms a protective, microporous surface
Will not crack, flake or peel >Great liquid resistance
Easy to maintain
OTHER SYSTEMS IN COMPARISON
Traditional Oil Penetrating Finishes
Protects the wood from the inside
Does not form a film
Does not form a protective surface
Advantages of a penetrating oil finish
The oil penetrates deeply into the wood
Enhances the natural wood color
Spot repairs can be done easily
Will not crack, flake or peel
Disadvantages of a penetrating system
Insufficient liquid resistance
Time consuming regular maintenance
No surface sheen options available
Surface Finishes
Protects the wood from the outside
Forms a film
Forms a non-repairable, non-breathable layer
Advantages of a surface finish
Good liquid resistance
Protects against wear
Easy maintenance, wipeable …for a time
Disadvantages of a surface finish
Repair/refinishing requires intensive, intrusive sanding
Spot repairs are not possible
The finish will eventually crack, flake and peel
Osmo Finish Sheens Available
Interior sheen choices are:
Matte
Soft Satin, most popular
Soft Glossy
Exterior:
has additional UV and mildew resistance
How often would I need to maintain Osmo finish?
This would depend entirely on degree of wear and tear and normal abuse and to weather exposure, that being rain & sun damage over time. Exterior application is where we think the Osmo Finish really shines. Whereas a surface finish can look great for a number of years in which case they can be ignored. However, once it is noticed that the finish needs reworked/refurbished, it can easily be too late to simply recoat. Instead, often it becomes necessary to completely strip the finish by sanding down to bare wood. With the Osmo system this major resanding down to bare wood can be completely avoided. When it should be noticed that the wood looks dull of sheen or thirsty dry or perhaps damaged by surface scars from wear or tear, then the finish can be simply reapplied in the areas affected or as needed. The Osmo products are tough and made to endure and repel the elements. Of note, Osmo products were designed and are used primarily for use on hardwood floors, which obviously endure much more abuse, wear and tear than should a door.
How do I maintain the finish?
Here the general rule for recoating is: Where & When, where and when needed and as the surface is basically Clean & Dry. Then wipe, brush or roller on thin coat as desired and after several minutes, rub in and off the excess. Osmo can be purchased direct from RCD for this purpose.


Other Finishes
Urethane Clear Coat - We use Prothane, a spray-on exterior plastic urethane coat. With an exterior rating, we get the water/chemical resistance of polyurethane with the smoothness a lacquer finish provides. It will have all the characteristics of surface coat as mentioned here. It is a popular choice, providing a strong, built-up protective coat. Available in satin sheen and flat matte
Prime Paint - If you plan to paint your door upon delivery, this is a good option that not only seals the door before shipment, but primes the surface for easier painting once received.
Finish Paint - If it is desired to have the door arrive fully painted and ready to install with no other painting needed, then this is the way to go. Standard colors currently are:
Black an exterior black lacquer
White…an exterior white lacquer
Custom colors We can match most any national brand enamel quality paint. Call to arrange and get pricing
| | | | |
| --- | --- | --- | --- |
| | EuroFinish | Traditional Oil Finish | Polyurethane Surface Finish |
| | | | |
| Protects wood from the inside | | | |
| | | | |
| Repairable without sanding | | | |
| | | | |
| Will not crack, peel, or flake | | | |
| Multiple sheen options available | | | |
| Little maintenance needed | | | |
| | | | |