1. GO TO OUR FLAT TRACK HARDWARE OPTIONS:
Click here!
2. SELECT WHICH STYLE YOU PREFER:
This refers to the hanger style. Your choices are..
3. FLAT TRACK SIZES:
The first option is flat track sizes. To determine what size track you need you'll multiply your doors width by 2. The track length will be double the width of your door.
4. SELECT AMOUNT OF DOORS ON TRACK:

This will determine how many sets of hangers you get. For example, 1 door = 1 set of hangers, 2 doors = 2 sets of hangers, 3 doors = 3 sets of hangers
5. SELECT FINISH (THE COLOR OF YOUR HARDWARE):
Here are some examples of our finish options...

Black


Oil Rubbed Bronze


Unfinished
(Raw Steel)


Stainless Steel


White
6. SELECT YOUR WHEEL STYLE:
Matching Steel Wheels: Comes standard with kit. Wheels are made of steel in a finish that matches the hangers and track.
Matching Hush Wheels: Steel wheels that match the hanger and track finish, and have a black polymer hush insert lining the wheel where it makes contact with the track. This helps the wheels glide along the track more quietly, and takes away the metal on metal sound.
Black Polymer Hush Wheels: Instead of steel, the entire wheel is made of black polymer hush material so it will glide along track quietly.
Stainless Steel Wheels: Solid stainless steel.
Stainless Steel Hush Wheels: Stainless steel wheel with a black polymer hush insert lining the wheel where it makes contact with the track. This helps the wheels glide along the track more quietly, and takes away the metal on metal sound.
7. SELECT FASTENER OPTION:
Black Bolts and Lags: Works with black and oil rubbed bronze kits
Unfinished Zinc Bolts and Lags: Works with unfinished kits
Stainless Steel Bolts and Lags: Works with stainless steel and white kits


*While these are the color coordinating options, you can pick whichever fasteners you want to go with the finish of your kit.
*Bolts and lags are anodized to get the color; a powder coat would rub off during install. Therefore, we do not have bronze or white bolts and lags.
8. DOOR THICKNESS:
Your door thickness determines the length of bolts and lags you receive.
9. SELECT END STOP OPTION:
End stops prevent the door(s) from sliding off the track. Standard end stops are fixed at the ends of the track, adjustable end stops can be moved anywhere along the track. When you select an adjustable end stop you will receive one adjustable stop and one fixed stop.
10. SELECT BOTTOM GUIDE:
A bottom guide is important because it prevents the door from swinging on the track. The door must be in constant contact with the bottom guide. The bottom slot is 5/16" wide and 1/2" deep.
| | | | |
| --- | --- | --- | --- |
| T-Guide: Keeps the door aligned and sliding smoothly, all while remaining hidden from sight. Installed in the floor, it requires a slot cut into the bottom of the door. | C-Guide: (for 1-3/8", 1-1/2", 1-3/4" door thicknesses): Unlike the T-Guide, the C-Guide doesn't require any modification to the bottom of your door. It is installed on the floor and cups around the door to guide it. | Adjustable C-Guide (for door thicknesses 1" and greater): Works the same way as the standard C-Guides, but it comes in two pieces to accommodate your door thickness. | Wall Mounted Stay Roller: Perfect option if you don't want to mount your bottom guide to the floor. This guide mounts to the wall and can accommodate door thicknesses from 1-1/2" to 2-3/4". |
11. SELECT TEARDROP LOCK:
This is an optional add on. A Teardrop Lock is a privacy latch that mounts to the door or the jamb and will fit most applications. It is available in black and stainless steel. This lock does not work when using a ledger board. If you have two doors selected this option will still only send you one. You need to add a additional one from the teardrop product page. One is needed per door, as they do not lock the doors together.
| | |
| --- | --- |
| Black | Stainless Steel |
12. DRYWALL ANTI-CRUSH RINGS:
Drywall anti-crush rings will protect your drywall when mounting Aero, Prop, or Classic Flat Track hardware directly to the wall. (Wood blocking in the wall is required to mount your hardware directly to the wall.)
13. SELECT 1/4" STANDOFF EXTENSIONS:
These extensions can be used to add extra clearance to achieve clearance that is desired (recommended minimum clearance 3/8") between the wall and the door. 1/2" extensions are now available on our website as well, but need to be added separately
*If you need ½" extensions, you must call to place the order as they are not available for purchase online.
14. SELECT MATCHING SKYRISE FLUSH PULL:
A pull handle that is mortised into the door and sits flush with the door for minimal clearance applications.
15. THE SOFT STOP:
The soft stop is a mechanism installed to the back of the track and is designed to bring the door to a slow close.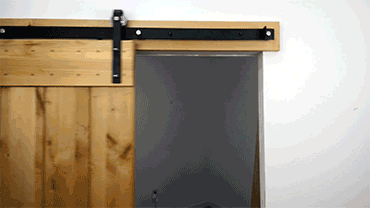 16. SELECT LEDGER BOARD:
The ledger board is a 1" thick piece of wood that mounts securely to the wall with ledger lock fasteners that screw directly into the studs, removing the need for wood blocking in the wall or custom flat track hole placement for difficult stud configurations. It can also can help provide more clearance between the wall and the door. You can select from our vast list of wood species.
17. SELECT LEDGER BOARD FINISH:
18. SELECT YOUR QUANTITY:
This is where you'll select the amount of kits you need, for example if you need multiple sets of the same kit for other applications you would increase your quantity.
19. ADD TO CART:
Now you're ready to check out! Go ahead and click Add to Cart and finish the checkout process.